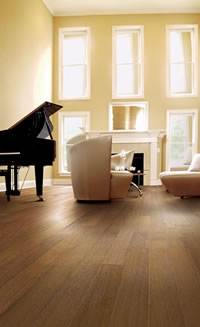 From domestic hardwoods like oak, maple, and cherry to exotics like tigerwood, cumaru, and teak, we can supply your needs whatever the application.
Unfinished Strip – from standard 2 ¼" Oak to wide plank Antique Heart Pine, Coastal Hardwood carries a full complement of products including exotics from around the world. Such wood as Brazilian Cherry or Andiroba can add a distinct flavor to your floor, and many of the exotics are harder and more durable than domestic hardwoods. We buy from leading mills in the US and can source virtually any product you're looking for.
Solid Prefinished – We are proud to offer two of the best products on the market – Mullican Flooring www.mullicanflooring.com and Complete Flooring Services' Premium Green Bamboo www.premiumgreenbamboo.com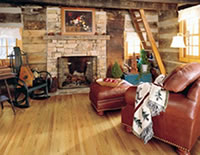 Mullican's Highland Series of pre-finished solid hardwoods is a complete line of domestic hardwoods in several colors and styles and offers exotics like dark sucupira and massaranduba. Completing the product line is the Chatelaine hand-scraped products and the new Frontier Distressed line, reminiscent of the American West. Looking for a quality pre-finished solid in an array of species, colors and widths? Look no further than Mullican and Coastal Hardwood.
Premium Green Bamboo from Complete Flooring Services (CFS) is one of the hottest products on the market today. Actually a grass, bamboo grows in SE Asia and China and is truly a renewable resource, growing more than a foot per day in season. Harder than many domestic woods, bamboo offers an attractive alternative to conventional wood floors. Available in either vertical or horizontal grains and in natural or carbonized colors, bamboo is perfect for that beach house or vacation home where durability, cost effectiveness and a relaxed, informal look play important roles. Bamboo is even available in hand-scraped designs and wide width planks! Look to CFS & us for all your bamboo needs!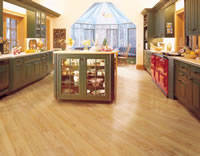 Engineered Prefinished – Mullican's newest product offering is one of the most comprehensive lines of engineered prefinished wood flooring on the market today. With more than 75 separate products ranging in thickness from the 3/8" Meadowview to the 9/16" NorthPointe and widths of 3" or 5", the line offers a wide range of domestic Oak, Maple and Walnut. Add to that the Chalmette line of hand-sculpted hardwoods, the Frontier line of machine-distressed and wire-brushed flooring, a growing line of exotics, and wear warranties up to 25 years and you have the widest selection of styles, designs, and colors available to best compliment the interior of your home. Each Mullican floor is manufactured with the highest quality and precision, which means beautiful, trouble-free installation providing customers with the ultimate in satisfaction. Mullican – The Clear Leader in Hardwood Flooring.
Laminate – Coastal Hardwood Inc. features Timber Classic laminate from CFS, with the patented "Timber Click" click-lock system. Made of a high-pressure core with a marine-grade adhesive sandwiched between two layers of melamine, Timber Classic laminate sets the standard for durability, beauty, and moisture resistance. Available in a variety of colors, widths & styles (including hand-scraped), laminate is fast becoming the inexpensive alternative to sheet vinyl, giving the desired real wood look with low maintenance requirements. We also carry the Floor Muffler, a high-performance acoustical underlayment and moisture barrier specifically designed for use with laminate flooring. Timber Classic, the Floor Muffler and Coastal Hardwood – an unbeatable combination!